According to a new report, the FBI was warned last September about a YouTube user named Nikolas Cruz who wrote in response to a video by a vlogger that he was "going to be a professional school shooter."
On Wednesday, police arrested Nikolas Cruz, 19, on the suspicion of opening fire at his former high school, Marjory Stoneman Douglas High School in south Florida. At least 17 people, including both students and faculty, are dead as a result of the massacre.
On Thursday, BuzzFeed reported that the FBI had been warned about someone of the same name in late September 2017. BuzzFeed spoke with the YouTube vlogger, Ben Bennight, 36, who said that he noticed an alarming response to one of his videos posted and immediately contacted the FBI.
"Agents with the bureau's Mississippi field office got back to him 'immediately,' Bennight said, and conducted an in-person interview the following day, on Sept. 25," BuzzFeed reports.
"They came to my office the next morning and asked me if I knew anything about the person. I didn't," the vlogger told BuzzFeed. "They took a copy of the screenshot and that was the last I heard from them."
Below is a screenshot of Cruz's September 24 post, which Bennight flagged and YouTube ultimately removed: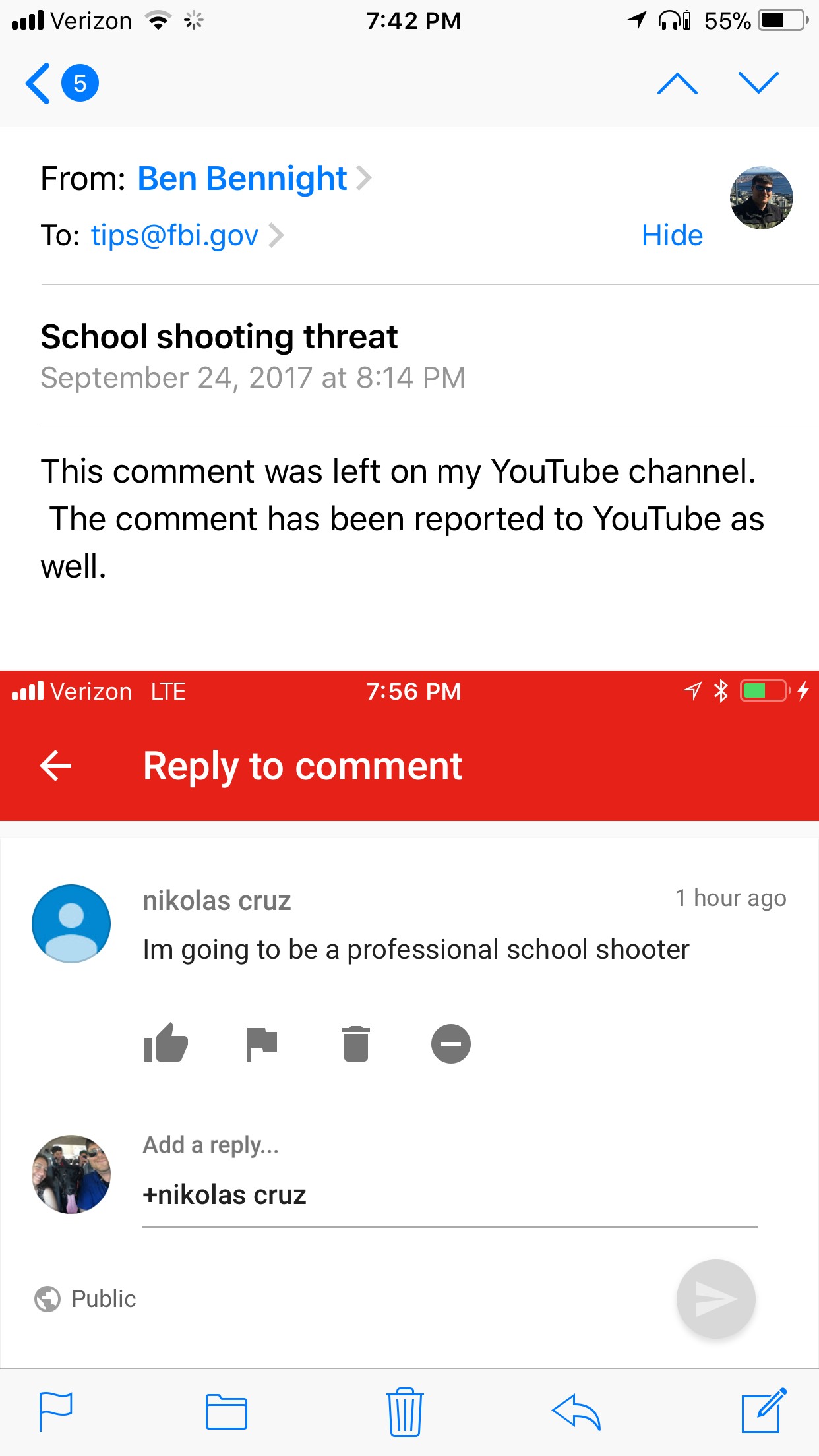 Bennight told BuzzFeed that at around 4:30 on Wednesday, about 30 minutes after Cruz was taken into custody, Special Agent Ryan Furr of the Miami FBI field office contacted him about Cruz.
"I think we spoke with you in the past about a complaint that you made about someone making a comment on your YouTube channel," Furr said in a voicemail message Bennight provided BuzzFeed. "I just wanted to follow up with you on that and ask you a question with something that's come up, if you wouldn't mind giving me a ring."
Bennight says agents visited him in person for the second time on Wednesday. "They asked me if I knew who he was, I didn't. I don't. Then they left," said Bennight.
Furr wouldn't confirm that he had made the call; the FBI has also not confirmed that the Cruz who posted the message is the shooting suspect, though the statement appears to align with other disturbing social media posts made by the suspect.
Cruz has been described as a troubled young man who was a "loner" obsessed with guns and violence. He was expelled for undisclosed disciplinary reasons from Marjory Stoneman Douglas High School last year and was considered by some faculty to be a "threat."
"All he would talk about is guns, knives and hunting. I can't say I was shocked. From past experiences, he seemed like the kind of kid who would do something like this," former classmate Joshua Charo, 16, told the Miami Herald. "He used to tell me he would shoot rats with his BB gun and he wanted this kind of gun, and how he liked to always shoot for practice."
He opened fire at around 2:30 p.m. using a semiautomatic rifle, killing at least 17 people. He managed to escape the school by hiding among other students evacuating the area but was arrested in a nearby neighborhood in Coral Springs at around 4 p.m. Below is reported footage of his arrest: